News
Sebsebe Demisse: the Abrahamic Botanic Garden is a symbol of mutual respect
Last update:
April 21, 2022
In 2006, as part of UNESCO's efforts to enhance linkages between cultural and biological diversity, a new idea was born to establish a series of Qur'anic Botanic Gardens in the Arab region. In 2014, the first Quranic Botanic Garden was opened inside Sharjah's Desert Park, next to the Botanic Museum. Today, Ethiopia plans to establish an Abrahamic Botanic Garden, as a symbol of mutual respect of different faiths. Learn more about this new project in this interview with the leading person, Professor Sebsebe Demissew, from the University of Addis Ababa. 
Professor Demissew, what does "Abrahamic Botanic Garden" precisely mean?
The idea is to establish a botanical garden, which offers visitors a unique experience in the botanical world of plants that are mentioned in the Holy Books. Many of these plants are still used today. Such a garden with spiritual significance can play a major role in regional biodiversity conservation, environmental education and the rapprochement of cultures.
The idea started in 2013, after I met Dr. Benno Boer, Sciences Specialist at the UNESCO Office in Addis Ababa. He told me about the establishment of Quranic Botanic Gardens in Sharjah and Qatar through the collaboration of their respective governments and UNESCO, and about the use of such gardens in linking biodiversity and culture. We then thought of expanding the concept towards the establishment of an Abarhamic Botanic Garden inside the 700 ha Gullele Botanic garden, in Addis Ababa.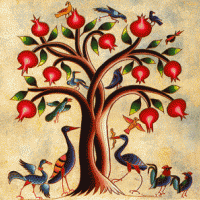 The city is fitting to establish the garden, as Ethiopia has a long cultural tradition of respect and tolerance of faiths. The prophet Mohammed had sent his followers to Ethiopia where there was Christian King and they were welcome. Since then, the three Abrahamic religions (Christianity, Islam and Judaism) are practised in the country, and above all, Christians and Muslims live in mutual respect and peace for decades. The symbolism is very significant.
So, I have volunteered to spear head the project, in collaboration with UNESCO science and education specialists. We are presently developing the proposal to get financial support. Its main objective is to bring to attention of Addis Ababans and visitors to Addis Ababa to enjoy the biodiversity associated also with culture and religion: what are the plant species that are cited in the Holy Books of the Abrahamic faiths? are they conserved or do they need conservation?, etc,. It would contribute significantly not only in Addis Ababa where it is expected to be established, but also in other regional capitals outside Addis.
This is not only an Ethiopian project, but a global one – to bring together followers of Abrahamic faiths through biodiversity. However, Ethiopia is in a unique position in that all its known botanical resources have been already documented, so that it would not be difficult to collect and grow these resources in the Abarhamic Botanic Garden.
The botanical resources were documented thanks to the Ethiopian Flora Project that you have directed from 1996 to 2010. Can you tell us more about it?
The Ethiopian Flora Project started in 1980 as a joint collaborative project between the University of Addis Ababa, Ethiopia and the University of Uppsala, Sweden, with a consistent financial support from the Swedish Agency for Research Cooperation with Developing Countries (SAREC), now part of the Swedish International Development Co-operation Agency (Sida). It has been an example of a successful collaboration between national and international scientists, with the involvement of 90 botanists from 17 countries. Ethiopian botanists have also contributed a lot.
The principal objective was to write up a Flora of Ethiopia within the shortest time possible. We produced 8 volumes in 10 parts documenting the plant species in Ethiopia and Eritrea with 6000 species and 10% of which are endemic.
The Ethiopian Flora Project aimed also to promote scientific activities in taxonomic botany, economic botany, forestry, plant, ecology, plant physiology, etc., through training. Eleven PhD's and one illustrator have been directly and indirectly trained.
As part of this project, we also built up the National Herbarium and a related library to be used as reference centres for pharmacognosists, agriculturists, foresters, wild-life specialist, etc. When it was established in 1959, the National Herbarium had only 6000 specimens. Currently the collections are about 100,000, covering the flora of Ethiopia and the adjoining the neighboring countries. It provides plant identification services for government and non-government institutions, higher learning institutions, etc.
The National Herbarium is part of the Department of Plant Biology and Plant Biodiversity in the College of Natural Sciences, Addis Ababa University where many botanists in various fields of botany (biodiversity, ecology, physiology) are trained at MSc and PhD levels. It helps students of botany, biotechnology, environment, pharmacy and pharmacology to have information about their biodiversity at hand. Furthermore, Addis Ababa University is partner with Addis Ababa City Administration in running the Gulele Botanic Garden.
You have been teaching Botany since nearly 30 years at the University of Addis Ababa. How would you describe your relationship with the students?
There is no profession that is more rewarding than teaching. It is encouraging to see your students succeed in various fields be it botanical or otherwise. I have students who have now been professors at various Universities and hence my colleagues, and some even higher administrative positions contributing to national development endeavours.
When I say the experience is positive, it does not mean we do not face problems. Some students particularly at the graduate levels are challenged with financial shortages to successfully carry out their research. There are improvements on the infrastructure (such as internet access, access to journals on line) but a lot need to be done.  
Is botany attractive for students in Ethiopia?
Botany, biotechnology, environment, pharmacy, pharmacology and other related sciences are very attractive for students in Ethiopia. This is a country with about 95,000,000 people, and over 85 nationalities with their own language, culture and indigenous knowledge. Thus there is a great desire to develop these indigenous knowledge and culture from the plant resources that exist in the country. For example from a book on Aloes and Lilies of Ethiopia that I had co-authored in 2010 with my Norwegian colleague Inger Nordal, over 10 students from the College of Health Sciences had carried out their MSc research.
The number of students is on the increase, in the last decade, in our Faculty and in Addis Ababa University, the university now having over 50,000 students. In our department of Botany, we receive 20-30 MSc students per year, and increasingly Addis Ababa University is leaning towards PhD programmes to train staff for the newly merging universities. Currently there are about 31 Universities in Ethiopia, and the number will increase in the next two years. 
*  *  *
Prof. Sebsebe Demissew received his Bachelor of Science in general biology and his Master of Science in botany from Addis Ababa University. He earned a Ph.D. in systematic botany from Uppsala University (Sweden). He has held faculty positions in the botany department at Addis Ababa University from 1977 to the present. He also served as dean of the Faculty of Science from 1996 to 2000. His work in biodiversity spans more than three decades, and, since 1996, he has been leader of the Ethiopian Flora Project, which was successfully completed in 2009. His work includes documentation of the flora of Ethiopia and Eritrea, including the use of plants by indigenous communities. He also has participated in biodiversity studies in other African countries, including Usambara in Tanzania, Mefou and Mount Kupe in Cameroon, Weichaw in Ghana, Cape Region in South Africa, and Kibale Forest in Uganda. His work engages him in understanding the causes and effects of changes in the environment, with a main focus on natural resources. Currently also serving as a co-Chair for the Multidisciplinary Expert Panel for the Intergovernmental Platform for Biodiversity and Ecosystem Services (IPBES).